Welcome to Heaven Fresh Australia, distributor of the Bio-Sleeve water efficient urinal unit throughout Australia.
Bio-MAT
The Bio-Mat is a unique innovation that uses the best available biological urinal blocks which have been specially formulated to reduce odour problems and blockages in urinals. New strains of bacteria have been introduced to the biological and enzymatic cleaning efficacy to remove fats, uric-scale and solids that build up in urinal traps and pipe-work causing odours and blockages. The perfume mat and block adaption will deliver the very best value providing a lower cost structure and dramatically reduce waste outcome. This solution delivers substantial savings on both washroom maintenance and water bills as the need for constant flushing and improves the cleaning regime.
Bio-Sleeve
The Bio-Sleeve urinal unit is the culmination of seven years of hands-on research and development. Completely recyclable, it is environmentally sound, contains nothing harmful to the planet, is safe to use and fits most other throat units in the water efficient/reduced flushing urinal market. It's also easy to change from other manufacturers' throw away water efficient urinal units that pollute waste sites all over the country. We at Heaven Fresh Australia are true conservationists, we don't just pay lip service to the idea.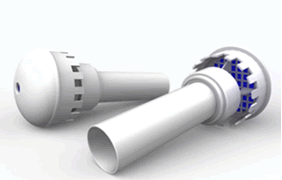 The water efficient urinal unit contains a bacteria/enzyme block, that cleans and combats the uric salt build up and breaks down scale deposits so common in gents urinals. In addition, the impregnated fragrance of the block refreshes the washroom and makes the gents toilets smell pleasantly all year round.
BIO-SLEEVE KEEPS YOUR URINALS LOOKING AND SMELLING LIKE NEW!
The Benefits:
Cuts costs
Eliminates smells
Reduces blockages
Minimises water wastage
Easy to install and maintain
Reduces harmful chemical use
Go green, go corn plastic (PLA), go bio-degradable
Refer to our Products page for an understanding of how the Bio-Sleeve unit can work to save the environment and cut your operating costs.