Welcome to Heaven Fresh Australia, distributor of the Bio-Sleeve water efficient urinal unit throughout Australasia and the Middle East.
Bio-Sleeve
The Bio-Sleeve urinal unit is the culmination of seven years of hands-on research and development. Completely recyclable, it is environmentally sound, contains nothing harmful to the planet, is safe to use and fits most other throat units in the water efficient/reduced flushing urinal market. It's also easy to change from other manufacturers' throw away water efficient urinal units that pollute waste sites all over the country. We at Heaven Fresh Australia are true conservationists, we don't just pay lip service to the idea.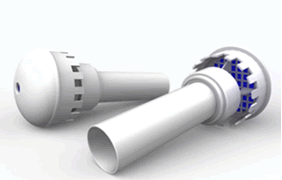 The water efficient urinal unit contains a bacteria/enzyme block, that cleans and combats the uric salt build up and breaks down scale deposits so common in gents urinals. In addition, the impregnated fragrance of the block refreshes the washroom and makes the gents toilets smell pleasantly all year round.
BIO-SLEEVE KEEPS YOUR URINALS LOOKING AND SMELLING LIKE NEW!
The Benefits:
Cuts costs
Eliminates smells
Reduces blockages
Minimises water wastage
Easy to install and maintain
Reduces harmful chemical use
Go green, go corn plastic (PLA), go bio-degradable
Refer to our Products page for an understanding of how the Bio-Sleeve unit can work to save the environment and cut your operating costs.